Schaudt Elektroblock EBL 99 and other charger repairs at £130.
Please email for the postal address to send a broken unit, the e
mail address is: aandncaravanservices@gmail.com
Recent review :
"Allan diagnosed the problem immediately, very impressed with cleanliness and speed of repair. Our local Main Dealer had not been able to find the fault!".
We are a small family firm, established in 2012, that carry out Motorhome and Caravan repairs, specialising in Battery Charger and Power distribution electronic repairs and sales.
We are Schaudt, Nordelettronica and Arsilicii distributors so can supply new and remanufactured parts from these manufacturers. We also specialise in the Sargent EC 225, EC 325 and EC328 carrying out full repairs and supply exchange rebuilt items from stock.
Examples are Schaudt Elektroblock EBL 99, Nordelectronica NE 143, Arsilicii AL320, etc.
Our units are often supplied at half main Dealer cost, like a new EBL 99 at £330 versus a Dealers £600 plus. Obviously we are able to repair these units and almost all Motorhome/Caravan Battery chargers.
Our top Technician is very highly qualified, not just in Electronics repair, but electronic circuit design. With his deep knowledge of electronics and Allan's knowledge of Motorhome Electronics, Installation, wiring and Batteries, there are few issues we can't resolve.
We don't just repair Charger units on the Workbench, we repair these units in the Motorhomes/Caravans themselves. We understand what goes on inside and around the charger box better than any Motorhome or any Electronics repairer in the UK.
Therefore our knowledge and expertise in fixing difficult electronic/wiring problems in a Motorhome, is amongst the best there is and why so many of our visitors travel hundreds of miles to us. Like the people who gave us the recommendation at the top of the page and this couple from Norfolk:
"Hi Allan, Back safely at home in Norfolk by dusk yesterday after our visit to you in North Wales.
Tired but elated and just wanted to say another very big THANK YOU for your work regarding our Motorhome.
Best regards,
C.R and M.R"
How many people drive 6 hours each way to get a Motorhome repaired and get home so delighted they send an email saying they are 'Elated'?
We have given up our fixed business premises and become mobile for all Motorhome/Caravan Electronic Charger repairs/replacement units.
We supply, repair and fit charger/Electronic units in Motorhomes and Caravans by working out of two Caravan sites in our area. See our North Wales page for more details on the Caravan sites to stay at when having work carried out, we pay the first nights stay. The North Wales page also documents many lovely places to visit while you are here, from an All Weather Ski-Slope to Seal watching on the Beach at nearby Angel Bay.
You can send us your failed charger for repair, see the email address at the bottom of this page or use the Contact Us page to send us an email for details and quote.
Specialist Battery Knowledge.
We knew about battery chargers, but wanted to know more about Batteries and their impact on a Charger. In 2012/2013 we carried out extensive research on Batteries, cutting open many different makes and technologies in an effort to understand why one battery can work well and another fails so quickly.
Why one battery might be kind to a Charger and why another seemed to have such a devastating effect.
We dissected the batteries we removed from vehicles to see which technology was used, how well they had aged and what had taken place inside the battery during the aging process. We noted those that were well made and those that were poor and what aging/degradation inside the battery corresponded with the damage we found in the charger unit.
We also looked at how they were being used in the vehicle and what equipment they powered.
Learning what type of use deteriorates a battery, with subsequent charger failure, also meant lots of conversations with Motorhome owners about how they use the vehicle.
With these first hand comments on usage, the evidence of the damaged charger, plus being able to also see inside the batteries gave us an insight into Batteries, Chargers and Motorhome usage like no one else.
As a result we were able to create our Battery technology webpages from Real World experience.
We know of no other team in all of Europe that repairs most makes of Battery Charger and sees the environment/Battery that led to the chargers failure. We see the entire electrical architecture behind fires like this :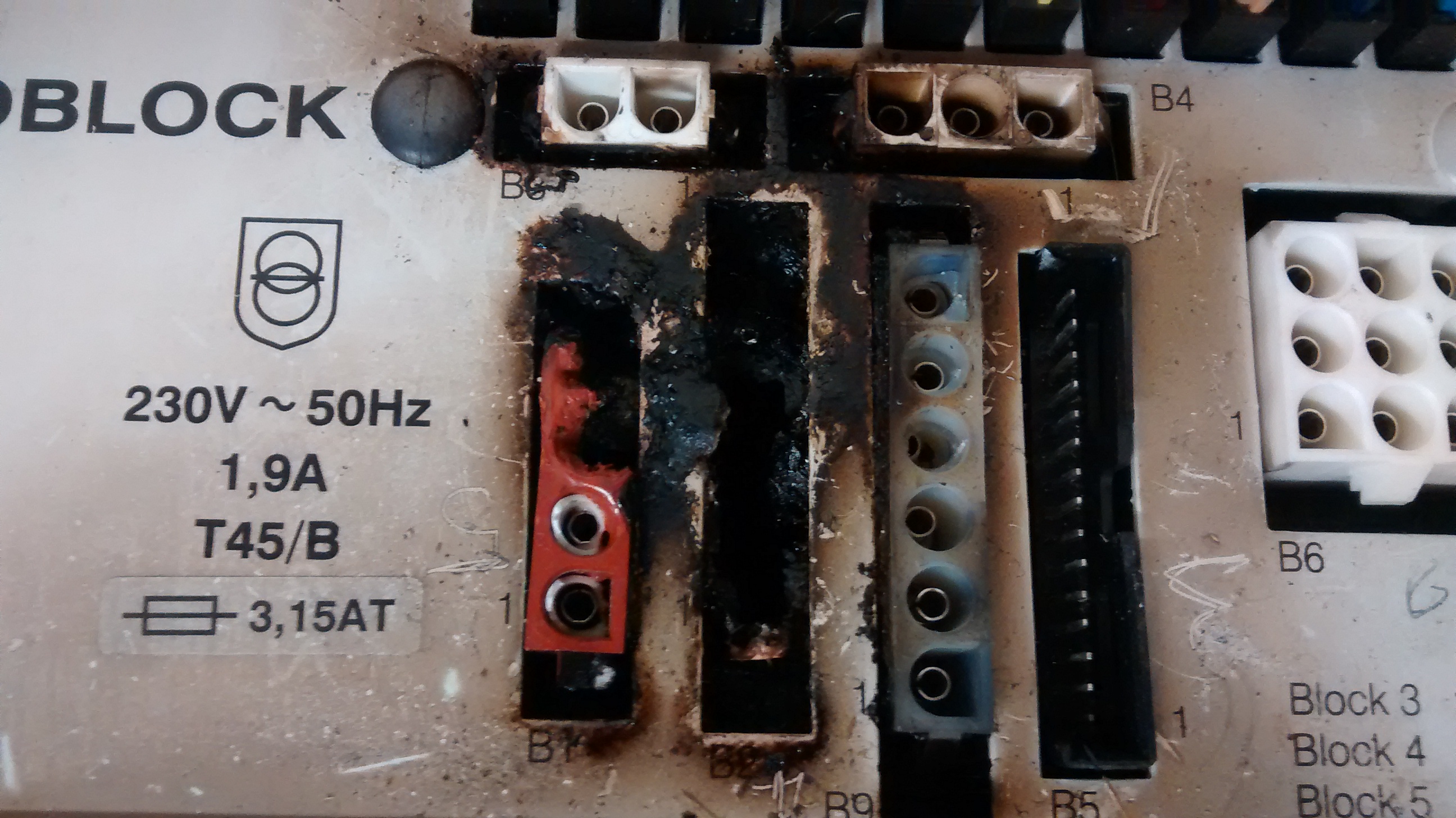 We believe this helps us to deliver a Battery Charger and Motorhome/Caravan electronics repair service like no other. That we are also one of the lowest cost is a bonus for you.
This real world knowledge of both Batteries and thousands of chargers has steadily increased over the past 5 years, resulting in our recognition as one of UK's leading Battery and Charging specialists.
Knowledge that we publish on these webpages to help everyone, something that is not always appreciated by others in the trade.
It does mean that if you do come to us, expect questions about your batteries, we are constantly learning and developing. We would appreciate you helping us expand our knowledge further.
Note that we do not sell any Batteries, the Battery advice we give is 100% impartial.
What causes a Charger to fail?
TO CONTACT US -
Email : aandncaravanservices@gmail.com
Please do not ring, I spend all day working in customers Motorhomes, usually while they are there. Please email and someone will get back to you as soon as we can.